Collision Repairs for RVs, Motor Homes, Passenger Cars, Light Trucks and Fleets
Hits: 4088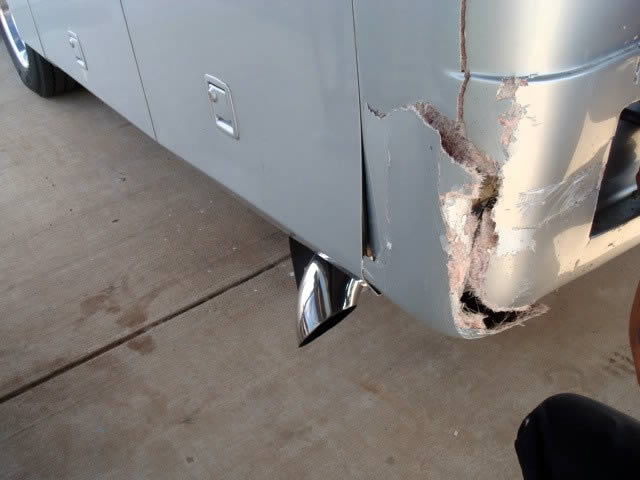 Accidents are bound to happen, and we are here to help! Our highly qualified and experienced staff are experts in all facets of RV, motorhome, passenger car, light truck, and fleet collision repairs.
When it comes to making your vehicle look and perform as good as new after an accident, there is no substitute for an experienced and motivated staff using only the finest products and proper tools for the job, and that is how we operate.
Our staff has vast experience in repairing all of the most common materials found on passenger and recreational vehicles, from aluminum and steel welding and fabrication to "invisible" fiberglass repairs and top notch paint and bodywork.
The goal of any good collision repair project is to make it look like the collision never happened - not just after it leaves our facility, but for the life of the vehicle. This is only possible if any and all underlying structural issues are addressed before the final "dress-up" of paint and bodywork is applied, and then only when the best materials are used and properly applied. That is the only way we know how to work, and we pride ourselves on getting the job done right the first time.
If your repairs will be covered as part of an insurance claim, we will work directly with your insurance company to make the whole process as simple and painless as possible. And whether you are paying cash, check, or charge, with a large deductible or no deductible, our work is guaranteed to be done to only the highest standards.
Collision Repair Services Offered
Complete paint jobs - make that dingy old car, truck, or RV shine like new again
Experts at replacing stripes, graphics, and decals, including custom painted and die cut vinyl
Auto body and RV collision repair and painting
Complete restorations of cars, trucks, and recreational vehicles of all types
Custom RV and motorhome paint jobs
Complete detailing service for cars, trucks, and RVs, including scratch removal
Match paint colors and schemes between multiple vehicles - RV, trailer, tow vehicle, toad, etc.
Repair and replacement of fiberglass panels and components
Fix discoloration of fiberglass gel coat
Car, truck, and RV window and windshield repair and replacement
Bumper repairs including chrome plating, painting, powder coating, and replacement
All types of warranty repairs and service
Our state-of-the-art facility includes everything we need to get your job done on time and to your satisfaction. Give us a call today or use this easy contact form to reach us by email.