Custom Graphics and Reproductions
Hits: 4410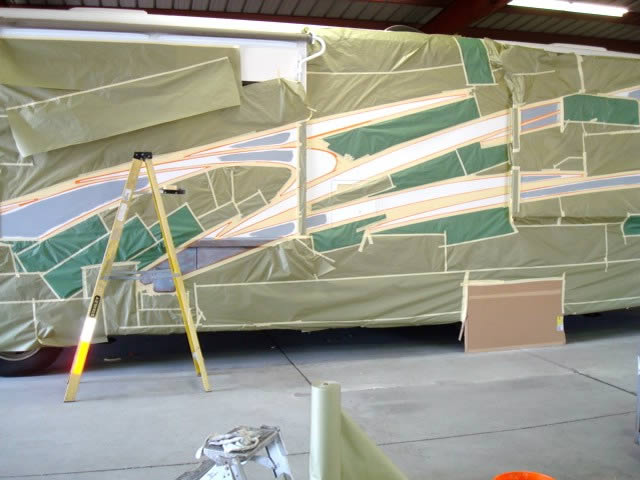 Any motorhome looks better with a little graphical flair, and we are experts at creating new graphics from scratch or fixing your existing graphics if they get scratched. Either way, we will make sure your RV leaves our facility looking exactly how you want it to.
MURALS
We are experts in all type of graphical murals for RVs, motor homes, and all other types of recreational vehicles. This includes photo murals, cut vinyl murals, and window murals which are produced on a special material that offers high visibility from the inside and bold graphics on the outside.
With a photo mural, the image is digitally printed on a single piece of vinyl, often (though not always) on a clear or white background. The artwork is created by the printing process and the outer dimensions are then cut to size and shape to match the location on the vehicle.
Window murals are another exciting way to enhance the looks of your RV. Just like the processes used for full vehicle wraps and commercial window signage, a window mural allows visibility from inside while still achieving the appearance of a solid design on the outside. The view from inside is affected to a similar extent as moderate window tinting.
Cut vinyl murals are made from intricate shapes that create a design using multiple pieces of vinyl, often (though not always) in multiple colors. In this case there is normally no printing done on the vinyl. These types of murals can be custom designs or direct replacements for existing factory murals.
Just about any look you can imagine can be achieved with either or both of the above processes.
STRIPING
Factory RV striping may be either vinyl or paint, and in either case we are experts at restoring and/or recreating damaged factory stripes. We can also enhance existing stripe layouts with added colors and/or designs, create new designs from scratch, or utilize your own designs. Many factory RV striping layouts are available as replacement kits, and we can do expert installations of these as well.
COVERING OLD GRAPHICS
There are often ghosted images left behind when old graphics are removed from your motorhome. In this case a decision must be made about whether or not to repaint the whole surface or find another way to cover this ghosting. New graphics that cover the ghosted images are one way to do it. Depending on the condition of the remaining surfaces once old graphics have been removed, we may or may not recommend respraying the whole surface with a new coat of paint in addition to replacing the graphics to give your RV a fresh look.